2002 Chrysler Sebring Convertible GTC
Interior
Compass/Mini Trip Computer (Traveler)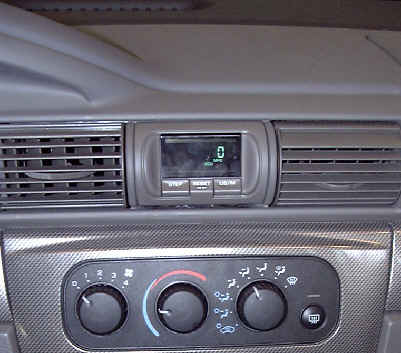 JR CMTC Computer Installation
It just would not do for me to not have a CMTC, so I installed one. Luckily, this car has a CMTC harness already installed. I had suspected, and had this subsequently confirmed, that the sedans also have this CMTC harness, even if they don't come with a CMTC. This means that one could install a CMTC into any JR sedan or convertible.
I did have to cut into the center instrument cluster bezel, but the cuts were relatively small. Still, I cannot uninstall the CMTC. This is a really minor concern, as I'm sure that nobody wants to downgrade from having a CMTC to having a small rubber mat in the center instrument cluster bezel.
You can find instructions on how to install the CMTC here.
---
Auto-Dimming Mirror
I wanted an auto-dimming mirror like what I had in my previous two cars (I installed one in my Stratus ES, but did not take any pictures or write about it). However, the only company that makes these auto-dimming mirrors, Gentex, offered three types of mirrors. I needed a mirror that only had map lights - Gentex does not sell these. However, Gentex does sell a mirror with map lights and a temperture and 8-point compass readout, so I bought that instead.
I went to install this mirror, and discovered that the stock mirror power connector is almost identical to the connector that was installed on the wire harness that came with the mirror. This eased installation considerably.
A-Pillar Trim Removal, In Preparation for Gentex Auto-Dimming Mirror Install
I wanted to be able to use the temperature function on the mirror, but the stock wiring did not have the required two wires for the temperature thermistor. Thus, I had to run these wires myself from the mirror to the engine compartment. This presented an opportunity - since I already had an ambient temperature reading that comes with the CMTC, I decided to make the Gentex mirror display intake air temperature.
I made a hole in the rubber fitting of my intake, and installed the Gentex thermistor in the hole. When this proved to be less than desirable due to the thermistor's wanting to fall out, I took a spare IAT sensor I had laying around, and put it in the hole. I then hooked up the spare IAT sensor to the wiring to the mirror. Surprisingly, it worked!
The mirror now displays intake air temperature, as well as a 8-point compass. I have problems with the mirror intermittently not auto-dimming; I think this is due to possible noise on the mirror's power supply wire. I think that a low-pass filter on this wire may stop the intermittent problem.
Gentex Auto-Dimming Mirror Installation, Showing Mirror Temperature Display Used for Intake Air Temperature
---
Cloth Seats
I was not that impressed with the Ultrahide plastic leather seats that came with my GTC, but I did not want to spend any money upgrading them to cloth. I was prepared to live with them.
However, an opportunity came up on the Chrysler Sebring Convertible Club. It seems that somebody else had cloth seats on their brand new 2003 Chrysler Sebring Convertible GTC, but wanted the Ultrahide seats instead. His seats were otherwise identical to mine, other than that they were covered in cloth. He and I got together, and we decided to do a seat swap in May 2003. Now, we're both happy.
Cloth Seats!